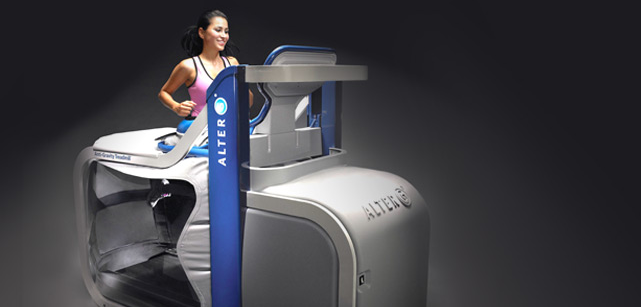 AlterG Anti-Gravity Treadmill
Take your rehabilitation to the next level!
The AlterG® Anti-Gravity Treadmill® enhances the physical therapist's ability to accelerate patients' recovery. The unique and patented unweighted rehabilitation treadmill technology:
Allows patients to rehabilitate with less pain while reducing the risk of further injury, which may enable patients to heal faster.
Provides physical therapists a precise way to track patient progress, keeping patients engaged and motivated during rehab.
Helps clinics, therapists, and trainers set themselves apart by offering the most advanced physical therapy technology available.
Acts as both a rehab device and wellness tool that gets patients excited to continue using it for training beyond short-term rehab.
Therapy with AlterG
The Alter G treadmill is ideal for:
Physical therapy following an injury or surgery on a lower extremity (hip, knee, ankle, or foot)
Rehab after total joint replacement
Gait training and strengthening for neurological patients
Strengthening and conditioning in a fall-safe environment for older patients
Weight-loss programs
Injury prevention during sport-specific conditioning and fitness improvement programs
Running Analysis