Health Insurance Carriers
Premier Physical Therapy is an in-network provider for most insurance companies. Every year new plans are offered so this list is constantly changing. If Premier Therapy is not listed on your insurance company's website as an in-network provider, give a call.  In some cases we may be listed by individual therapist or the list is not up to date.  If you would like to know for sure, we will also be happy to call and verify your specific insurance coverage before your first appointment so that you have an estimate as to how much your out-of-pocket costs will be.
Just a few insurance that we accept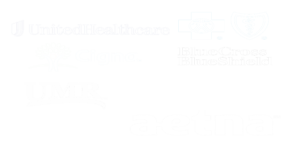 Motor Vehicle Accident? 
If you were injured in an auto accident Premier Therapy will work with your auto insurance company, the at-fault party's insurance company, and/or your attorney to establish a payment option. Give us a call and we can get started helping you to get better.
Work Related Injury?
Premier Therapy Associates works closely with your work-comp carrier, case managers and doctors to make sure that you get the best coordinated care so you can get back to work. Beyond physical therapy, Premier provides Work Hardening, Work Conditioning and Functional Capacity Evaluations(FCE). If you have any question about your Work Related injury give us a call at (402)933-0100.