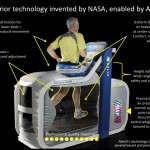 In the 1st few weeks the ALterG has been at Premier Therapy, here are the patients who have had some pretty impressive results:
1. Arlyss B: normally can only tolerate walking 5min due to pain at foot/ heel, hips, knee. On the AlterG can tolerate >15min.
2. Rachel B: has walked with forearm crutches her whole life due to birth defects that affected her bones and joints. On the AlterG she can walk fully independently for the 1st time ever.
3. Rick J: pain in hamstring stopped his marathon training. He was back to running after 2 sessions in the AlterG with analysis and corrections by therapist, thus only missed 2 weeks of training and is happily back to long distance running.  Regarding the upcoming marathon: "I won't hit my PR (personal record) but at least I'll be able to complete it."
4. Shannon S: frustrated at persisting knee pain with associated decreased overall activity and subsequent weight gain. Running on the AlterG allowed her "to finally break a sweat again; best investment ever."
5. Betty M: stuck in the tough position of wanting to lose weight and be active, but limited by knee pain.  On the ALterG she was able walk long enough to feel "like I finally am getting some exercise and getting stronger."  After 3 weeks of consistently progressing her duration and speed on the AlterG, she now feels good enough to be able to walk outside again.