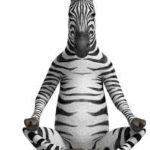 Another Ehlers Danlos Success Story!
EDS (Ehlers Danlos Syndrome) uses the zebra as its avatar because it is a syndrome that is frequently misdiagnosed thus poorly medically managed, commonly resulting in unnecessary surgeries, medications and activity restrictions.
I am very happy to see this starting to change in the medical community; allow me to introduce my new patient, "Sam."  Her primary physician suspected EDS, thus was referred her to a geneticist, Dr. Omar Abdul-Rahman, MD.  He confirmed the EDS diagnosis and recommended she consult with a physical therapist who specialized in EDS to learn what she should/ should n0t be doing for sports, recreation, daily living, etc.
Sam is happy to be able to continue an active and healthy lifestyle without fear of injury.  As a bonus, Sam is now suspecting her young son may also have EDS and is grateful to be able to provide good maternal care and medical decisions as he becomes more active.
Take Home Message: Just because you or a loved one has EDS, does NOT mean to stop living.  It simply means you need appropriate education and guidelines to make good decisions.  ENJOY LIFE!
https://www.unmc.edu/mmi/departments/mmifaculty/omarrahmanmd.html