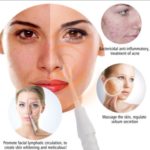 As many of you know, we have been privileged to have a licensed aesthetician, Ms. Angie Chambers, providing high quality skin care at our Benson location.  Following the harsh sun rays of summer, many of us now are experiencing dry skin, age spots and (even more!) wrinkles.  I asked Angie to educate me/ us on what she would recommend for a good solution…
HIGH FREQUENCY FACIAL: This treatment has many benefits ranging from treating acne, enlarged pores, fine lines & wrinkles, puffy eyes, & dark under eye circles.  The procedure is done by using a glass high frequency electrode that comes in different shapes & sizes to contour your face better.
When the electrode is applied to the surface of the skin a mild electrical current passes through the neon/argon gas filled glass causing it to submit a subtle glow and buzzing noise.
While doing this enriched oxygen molecules are produced which have an anti-bacterial action as well as a natural thermal tissue warming reaction that causes a natural concentration of underlying blood vessels & in tiny muscle groups which push away toxins, while the cells in your skin are enriched with nutrients & hydrating volume. This in turn creates an increase in blood circulation and cell renewal that aids in the support of increased level's of collagen & elastin.
Once done the skin is left feeling instantly energized,firm & refreshed.  The skin will have a rosy glowy appearance and be noticeably softer.  There typically are good results after just one treatment but I recommend monthly treatments. Skin care is a commitment and with consistency of treatments and at home skin care regimen you will have healthy better skin.
The High Frequency Facial takes about sixty minutes.  Please see my fb page for before and after pictures.
https://www.facebook.com/Beyoutifulskincareandmoremobile/?tn-str=k*F